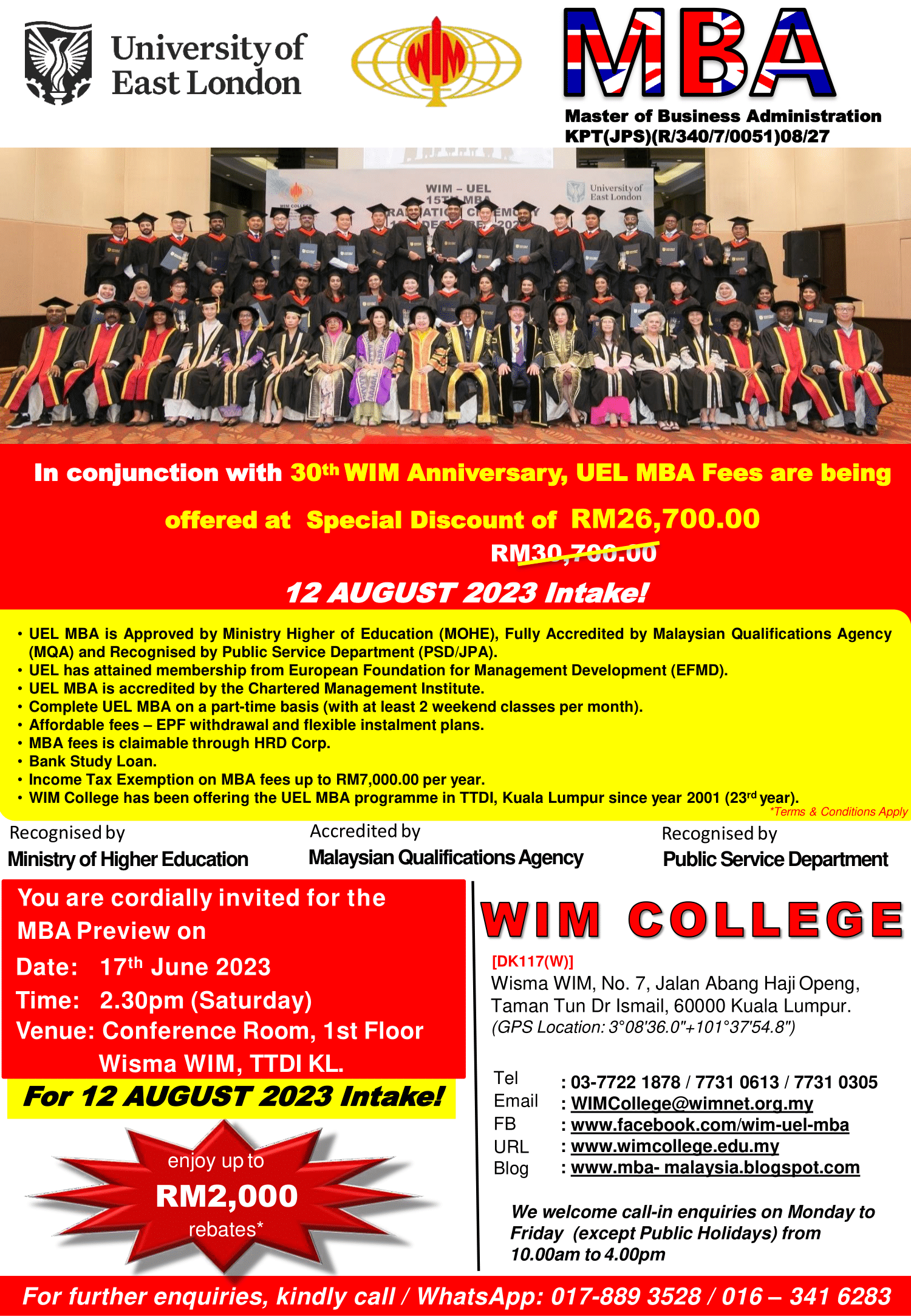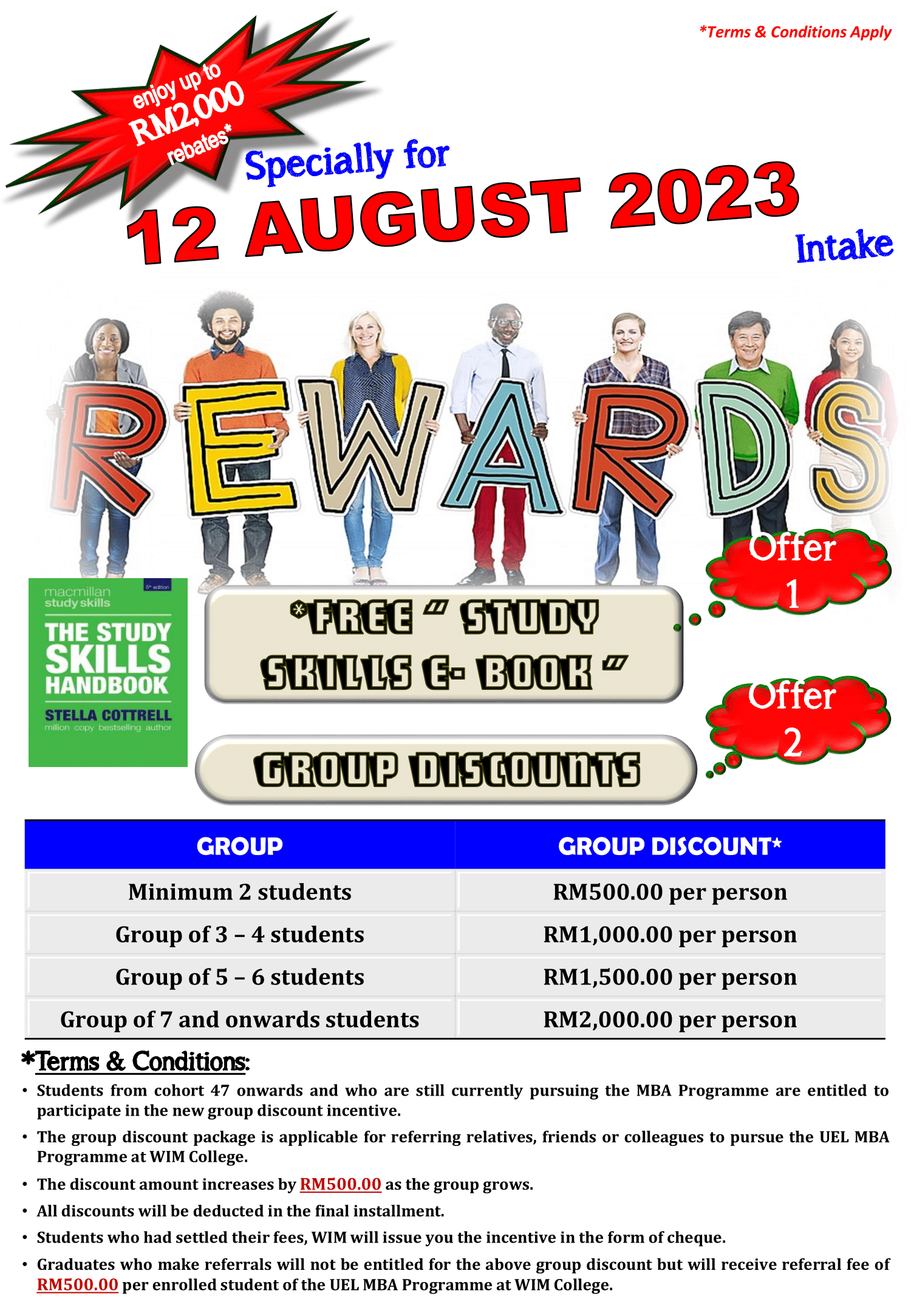 Latest Events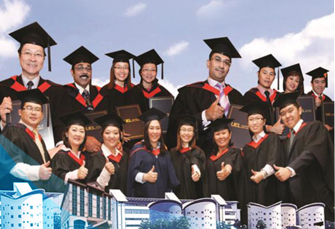 MBA PREVIEW
(Free Admission)
Date: 17th June 2023
Time: 2:30pm (Saturday)
Venue: Conference Room, 1st Floor, Wisma WIM, TTDI, KL
Note: We welcome walk-in enquiries on Monday to Friday (except Public Holidays) from 10.00am to 4.00pm.
NEXT INTAKE ON 12 August 2023
---
---
Cohort 37ABCD's amazing journey to achieve the University of East London MBA through WIM College
UEL MBA Graduate Testimonials

MBA must fundamentally be a journey of mental, physical and emotional nourishment … of knowing oneself and how one blends with other like-minded individuals. The WIM-UEL MBA provides an excellent medium to complete the journey, in all aspects of programme substance, delivery and support, found lacking in many other programmes. Lecturers challenge the students, so that when the time comes these students become worthy to be called a Master of Business Administration."
Raymond Lim (Distinction Scorer)
Head of Country Airbus in Malaysia
Pursuing an MBA may be a tough decision for many that includes me. I was lucky to be introduced to MBA with WIM- UEL as throughout my working life attending this was among the best experience I've ever had. The intensity of it was mostly felt through active interaction with fellow classmates and professors, and this continues after graduation. Most importantly, I am now an MBA graduate from WIM-UEL with an improved networking connection, excellent socialising skills and this has definitely raised me to another level of lifelong education achievement.
NORHAIZAM BINTI MOHAMMAD
Chief Financial Officer, KPJ Healthcare BHD


An MBA programme is all about continuous life-long education in personal and career development. Thus, an MBA programme enables the graduate to learn the skills required to be a well-equipped person and even better employee in the workforce. The WIM-UEL MBA programme just exactly that and more! With a high calibre team of academic staff as well as competent and friendly administration staff, it was the best decision I made in my career to embark on this educational journey. With the flexible schedule for lectures and the opportunity to mingle with peers I highly respected from various industries, I thoroughly enjoyed attending each MBA session at WIM's dedicated learning facility.
JAMIE F. MORAIS
Regional General Manager, Nissan Tan Chong Motor Berhad

It was a tough decision and great courage for me to sign up the WIM-UEL MBA programme especially when I was newly promoted for new portfolio. However, no regret for me for pursing WIM-UEL MBA as they provide a great opportunity for me to enhance my skill and knowledge from business perspective including business strategies and critical thinking.
The course is very intense and modules offered are diversify included marketing, operations, accounting and finance, human resource and business strategy. The interactions during class or group meetings are fantastic and challenging but promote and encourage critical thinking, which also give me chances to build a robust skill set applicable to my business career paths.
I utilize the skills learned from the MBA in my profession as a Chief Executive Officer. I have earned the respect from my doctors, colleagues and peers including my employer and I am considered an employee who adds value to the higher level for decision making.
Rachel Yew Hooi Choo
Chief Executive Officer, Pantai Hospital Cheras

I wish to affirm that the WIM-UEL MBA programme absolutely delivered its promise of quality lecturing and coursework. I felt very proud to have accomplished with distinction what I initially thought was beyond my reach. It would have been so had it not been for the remarkable opportunities and strategic tools offered by WIM-UEL. The quality of the dedicated and committed lecturers with their interesting insights surpassed my expectations. Their ever-friendly and reassuring guidance deserves full recognition. By far, the most motivating part of the programme was that the carefully planned classes were held during alternate weekends which suited the working executive comfortably. The group presentations, furthermore were a phenomenal way to bounce off ideas and the courses to life while simultaneously contributing in a real sense to the companies that we work for. It has been my pleasure indeed to have journeyed with WIM-UEL as it has greatly enriched my experiences and widened my understanding of the various perspectives. WIM-UEL provides a framework to identify the key business challenges illustrated with several cases studies of the successful and failed organizations that unlocked my thinking to address the problems.
The MBA journey is truly inspiring. It is not just a step in the right direction but a quantum leap towards enhancing your career and professional goals. The WIM-UEL MBA programme is therefore, highly recommended in this pace paced and dynamic environment. I wish to sincerely extend my deepest appreciation and gratitude to the principal and staff of WIM. I wish WIM every success in every way.
IRENE SAW
Director, Lemon Daisy Cake Sdn.Bhd


Pursuing the WIM College UEL MBA Degree Programme (Cohort 16) was a great decision that has, and continues to invoke many beneficial instances in my working world, since graduating with a Distinction.
Learning seriously, professionally and acutely absorbing lessons throughout the course, a channel of 'out of the box' ideas in strategizing work predicaments with resolutions amazingly seem to flow quite effortlessly. Pursuing this UEL MBA Degree will impose brain maturity, a clear mind with structured thoughts, in reality, that has proven useful, worthy and beneficial in all forms in the working environment needs. People tend to have faith in you when making firm decisions as a UEL MBA graduate, as I have experienced.
It was a really enjoyable and wonderful journey, readily assisted by the good and dedicated lecturers for subjects taught, thus resulting to a WIN-WIN-WIN scenario for all involved.
With a little regret in hindsight, I should have pursued this MBA Degree 20 years earlier (ie. in my early 30s)
Jasmene Bin Mohd Jonid
CEO, Crystal Remit Worldwide SDN BHD